Germany win FIBA 3×3 Women's Series 2021
Updated: September 19, 2021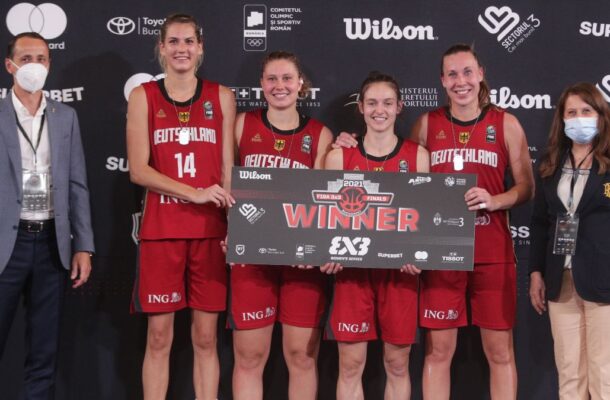 BUCHAREST, ROMANIA — Germany won the second edition of the FIBA 3×3 Women's Series after defeating Canada in the final (18-14) inside the iconic Palace of the Parliament in Bucharest, Romania on September 18-19, 2021.
After six stops in Mies (Switzerland), Voiron and Poitiers (France), Klaipeda (Lithuania), Constanta (Romania) and Montreal (Canada), it all came down to this: Luana Rodefeld (Germany) on the free throw line for two shots with less than five seconds to go to ice the game in the title game of the Bucharest Final.
The 23-year-old calmly sank her two free throws to lead Germany to the title, just one week after the team already made headlines by finishing second at the FIBA 3×3 Europe Cup in front of the Eiffel Tower in Paris.
Her teammate Sonja Greinacher – who led all players in rebounds in Bucharest and ranked number one in player value on the entire season – was named MVP of the Final.
Svenja Brunckhorst and Jennifer Crowder completed the roster for Germany, a team whose players ended their basketball career to specialize in 3×3 a few months earlier.
For the second time in a row, Canada finished second at the Women's Series (France won the first edition in 2019). Michelle Plouffe proved once again she was a hooper though by leading the field in points, key assists and player value in Bucharest.
"I was very proud to host the best female 3×3 players in the world, in partnership with Sport Arena Streetball, in the iconic location of the Palace of the Parliament in Bucharest this weekend", Romanian Basketball Federation President, FIBA Europe Vice-President and FIBA Executive Committee Member Carmen Tocala said.
"Women in basketball is one of the three strategic priorities of FIBA, this is why the introduction of prize money (for teams and individual players) this season and the overall growth of the FIBA 3×3 Women's Series is of paramount importance to me."

TOP 8 IN THE FINAL STANDINGS
1. Germany
2. Canada
3. Poland
4. Netherlands
5. Austria
6. Romania
7. Mongolia
8. Russia
FIBA Media Release