Ub win second straight FIBA 3×3 World Tour Masters in Montreal
Updated: September 6, 2021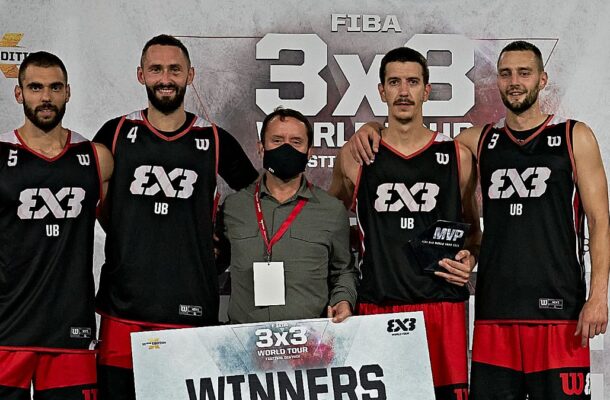 MONTREAL, CANADA — Ub (SRB) took home their second FIBA 3×3 World Tour Masters in a row in Montreal, Canada after defeating  Amsterdam Talent&Pro (NED) in the final on September 4-5, 2021.

Just one week after winning the Debrecen Masters, Ub (SRB) went back to back in the iconic Quartier des Spectacles. Their success over the Doha Masters winners Amsterdam in the final (21-15) was their tenth consecutive game won on the FIBA 3×3 World Tour.
The bouncy 29-year-old Strahinja Stojacic was named MVP of the event after leading all scorers in the final (12 points) and the entire Masters (40 points in five games).
In the individual contests, Piotr 'Grabo' Grabowski (POL) won the Podium Productions Dunk Contest while Tokyo Olympics gold medalist Karlis Lasmanis (Riga, LAT) dominated the Wilson Shoot-out Contest.
All the health and safety measures requested by local and national authorities and the Guidelines for the Return to Basketball, developed by the FIBA Medical Advisory Group (MAG), which were successfully introduced last season, were implemented once again.

MONTREAL MASTERS STANDINGS
1. Ub (SRB)
2. Amsterdam Talent&Pro (NED)
3. Princeton (USA)
4. Antwerp (BEL)
5. Riga (LAT)
6. Winnipeg (CAN)
7. Lausanne Sport (SUI)
8. Edmonton (CAN)
9. Raudondvaris Tauras (LTU)
10. Omaha 3Ball (USA)
11. Manila Chooks TM (PHI)
12. Old Montreal (CAN)

The sixth FIBA 3×3 World Tour Masters of the season will take place in Prague, Czech Republic, on September 18-19, 2021.