Ub win their first FIBA 3×3 World Tour Masters in Debrecen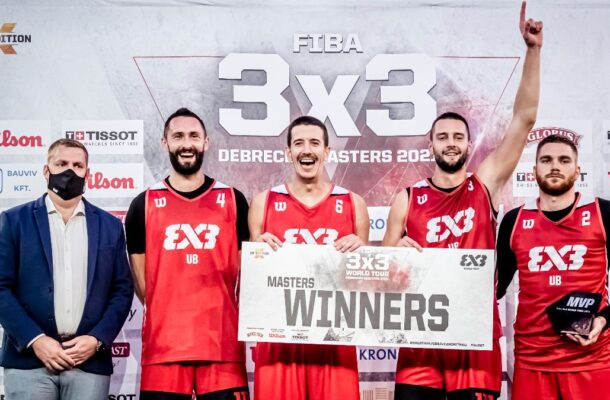 DEBRECEN, HUNGARY — Ub (SRB) took home their first FIBA 3×3 World Tour Masters trophy in Debrecen, Hungary after narrowly edging out Riga (LAT) in the final on August 28-29, 2021.
The World Tour never ceases to amaze as the first three events of the season all went to first-time Masters winners (Amsterdam Talent&Pro (NED) in Doha and San Juan (PUR) in Lausanne).
Things did not look so good for Ub, who trailed the entire game until a big shot from beyond the arc courtesy of Miroslav Pasajlic gave the Serbs their first lead (20-18) with 80 seconds to go in regular time.
The 26-year-old exploded for a team-high 8 points in the final for the winners, won the scoring charts and received the MVP title from Russian basketball legend and FIBA 3×3 Commission Chairman Andrei Kirilenko.
With the game on the line, Marko Brankovic buried his second free throw. Just one week after falling just short of their first Masters win in Lausanne, Ub took home the 40,000 USD winning cheque this time.
It wasn't win number one on the World Tour for Ub star Dejan Majstorovic. In fact, the recent Olympic bronze medalist celebrated his 20th event title on the World Tour in Debrecen. The former number one player in the world led his team in player value.
Missing two of their Olympic champions, Riga (LAT) were still phenomenal in Debrecen (4 wins, 1 loss), especially Nauris Miezis, who topped all players in key assists, drives and player value.
In the individual contests, Vadim 'Miller' Poddubchenko (UKR) flew higher than a drone in the Globus Dunk Contest while Arvin Slagter (Amsterdam Talent&Pro, NED) sank all three money balls to win the Wilson Shoot-out Contest.
All the health and safety measures requested by local and national authorities and the Guidelines for the Return to Basketball, developed by the FIBA Medical Advisory Group (MAG), which were successfully introduced last season, were implemented once again.
DEBRECEN MASTERS STANDINGS
1. Ub (SRB)
2. Riga (LAT)
3. Amsterdam Talent&Pro (NED)
4. Sakiai Gulbele (LTU)
5. Liman (SRB)
6. Piran (SLO)
7. Antwerp (BEL)
8. Graz (AUT)
9. Lausanne Sport (SUI)
10. Novi Sad (SRB)
11. Debrecen (HUN)
12. Emona (SLO)
13. Warsaw (POL)
14. Paris Tchaff (FRA)
The fourth FIBA 3×3 World Tour Masters of the season will take place in Montreal, Canada in a week on September 4-5.
FIBA Media Release
Photo Credit: FIBA