Germany get victory number one on FIBA 3×3 Women's Series in Constanta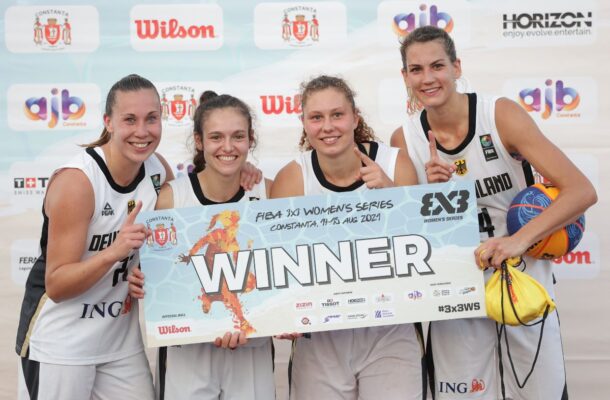 CONSTANTA, ROMANIA — Germany won the FIBA 3×3 Women's Series Constanta Stop after narrowly edging out the Netherlands (13-12) in the final in Constanta, Romania on August 14-15, 2021.
It was Germany's first-ever event title on the Women's Series on just their third participation after finishing 7th in Poitiers and 3rd in Klaipeda earlier this year.
Germany provided lockdown defense all weekend, keeping the opposing teams to just 11 points per game and showing nerves of steel in clutch time. They won their last three games of the tournament by a combined four points (!), an overtime win against the season leaders Spain (16-14), followed by two one-point wins against the United States (15-14) in the semi-finals and versus the Netherlands (13-12) in the final.
The towering Sonja Greinacher (6ft 3in, 1.90m) was key for Germany in the final with a game-high 8 points and a double-five (add 5 rebounds). The 29-year-old was named MVP after topping all players in scoring, player value and rebounds.
The Netherlands tied their best-ever performance on the Women's Series with their second place on the shores of the Black Sea. Their defense was suffocating (less than 10 points conceded per game on average and number one in blocked shots) and were the only team to beat Canada in Constanta (in an amazing come-back win in the semi-finals). The two former Youth Olympic Games silver medalists (in 2014) Esther Fokke (who was 1 rebound shy of a triple-five in the final) and Janis Ndiba led the way for the Orange Lions.
The two North American women's 3×3 superpowers Canada and USA finished third and fourth respectively.
Though they finished just seventh in Romania, Spain already mathematically clinched their ticket to the final, which will also take place in Romania, this time in Bucharest on September 18-19. The Romanian hosts are the only other team to be guaranteed to make the final at this stage.
The other six participants will be officially confirmed at the end of the last stop of the season, which will be held in Montreal, Canada on September 3-4.

Constanta Stop Final Standings
1. Germany
2. Netherlands
3. Canada
4. USA
5. Slovakia
6. Poland
7. Spain
8. Hungary
9. Russia U25
10. Russia
11. Austria
12. Romania