Canada earn 2:2 draw with Brazil in last match at Tournoi de France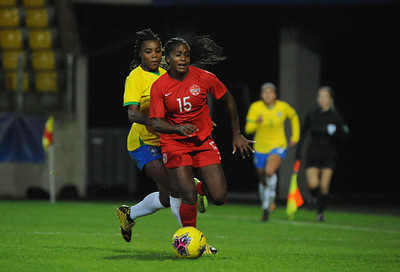 Two second-half goals reversed a 0:2 halftime score as Canada Soccer's Women's National Team secured a 2:2 draw with Brazil in their last match at Tournoi de France. The second-half goals by Diana Matheson (74') and Janine Beckie (87') gave Canada their second draw of the tournament.
"We had a good performance, a winning performance for 90 minutes. We talked about finishing strong and I think we did finish strong." said Kenneth Heiner-Møller, Women's National Team Head Coach. "Overall, in a very short period of time we played three tier one, top ten teams in the world and it was a great test for us."
Heiner-Møller used the Tournoi de France to give minutes to all 22 players in camp in preparation for final roster selection ahead of the Tokyo 2020 Olympic Women's Football Tournament this summer. Canada will play at home in Vancouver against Australia on Tuesday 14 April as its send-off match for Tokyo.
"You have to test players within a certain spine, so you cannot change everything every time. I think they got a good opportunity to show themselves and what they're capable of doing right now, all 22 players in three matches against Top 10 teams in the world," Heiner-Møller said. "This was a great step for us to be ready for the Olympics."