Fiji Takes First HSBC Singapore Rugby Sevens Title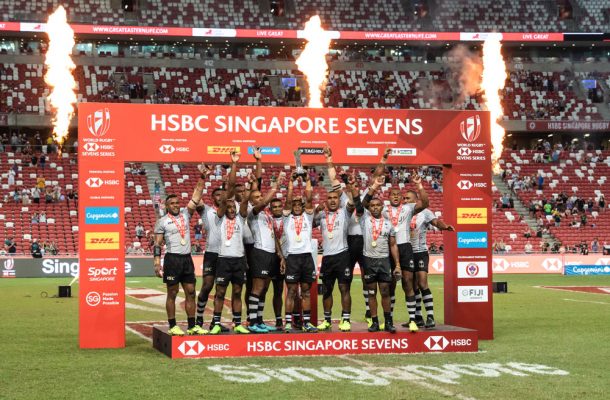 SINGAPORE — Fiji won its third HSBC World Rugby Sevens Series tournament in a row with a thrilling 28-22 win over Australia, who reached their first Cup final since winning their home event in Sydney earlier this year – on new coach Tim Walsh's first outing with the team.
The four-time titlists this season also climbed into first place on the Series ladder on 145 points, four ahead of South Africa, who ran England close in the Bronze medal match, losing 26-24.
Fiji won in gripping fashion after close-run affairs over New Zealand (third on the series) in the quarterfinal and South Africa (series leaders heading into this weekend) in the semis.
Coach Gareth Baber's squad needed last-minute tries all afternoon with Josua Vakurunabili's tally in the last seconds sealing the win over the Kiwis and Eroni Sau's score off of an attacking scrum putting them home over an injury-hit South Africa, 12-10, to set up a mouth-watering finale against Australia.
Australia reached its first Cup final since Sydney on new coach Tim Walsh's debut World Rugby Sevens Series tournament after narrowly escaping a fast-improving Spain 7-5 in the quarters.  Australia then beat a resurgent England, 15-7, in the Cup semi-final.
Entering the final with just 11 men Australia would not have been the bookmaker's favourites but the unfancied challengers rose to the occasion, rallying from a 14-point deficit in the first half to score four tries, two in the first stanza as they closed the gap to 14-10 at the break.
Trailing 21-10 in the second half, the champagne looked to be on ice in Suva, but Australia came charging back with late tries from Brandon Quinn and match captain John Porch, who was second in points scored this weekend with 42, one behind New Zealand's Kurt Baker, giving Australia the lead late in the game at 22-21.
Australia came close to sealing what would have been a memorable victory, and a third consecutive surprise champion for the Lion City sevens, but for a costly dropped ball that saw the potential game winner pulled off the board. 
Unaccustomed to needing second chances, Fiji raced away to score in stoppage time to claim the 28-22 win.
"It was a good final wasn't it," said Baber. "I'm sure it was entertaining. It was positive, there were a lot of tries scored and both teams really went at it and put some risk into it.
"Fortunately for us there was a drop ball at the end, as Australia looked like they were going to win, but I always knew that we had something in us. We can score from anywhere.
"We did some things wrong and the momentum swung so we had to re-focus in the second half, but we showed a lot of character to pull out that game."
Baber felt the challenging route to the final was greater reward than even topping the Series table.
"That's good isn't it. That probably counts for us more than sitting on top of the ladder.
That is what the players will tell you. When they are under the kind of pressure that they were tonight on the field, they are actually operating in their comfort zone.
"Everyone else sees the drama, the entertainment, all they see is a game of rugby that they are having some good fun in and that is what is great about Fijians."
That and their HSBC Singapore Rugby Sevens crown.
The 2018 HSBC Singapore Rugby Sevens saw over 55,000 fans enjoy the magic of the Family Sevens at the National Stadium over the weekend.
With a perfect blend of pulsating on-pitch rugby action, thousands of people rocking out to disco legends Village People, and a 20,000 square feet FunZone that featured first time appearances of The Transformers, Nerf, and the Little Pony, the two-day fiesta reaffirmed its position as the biggest celebration of rugby in Southeast Asia.
Highlights of the Cup Final match














Photo Credits: Phamai Techaphan/PHTNews